June 15, 2019, 11:00 am – 12:00 pm
Member Saturday: Prison Labor: From Eastern State to Parchman Farm
Members only.
Join us on the third Saturday of every month for a new members-only program.
Experience Eastern State as only members can, through exclusive tours on the third Saturday of each month at 11:00 am. These unique, members-only events shed light on new historical findings, take you behind the scenes, and much more. Discover our collections, explore our site, illuminate history, and make unexpected connections.
June Member Saturday: Prison Labor: From Eastern State to Parchman Farm
In the early 20th-century Jim Crow South, Parchman Farm, the Mississippi State Penitentiary, was created as a model for inmate labor, which significantly impacted Mississippi's economy in a variety of ways. Here in Philadelphia, Eastern State also served as a model prison, founded on a system of strict isolation, silence, and labor.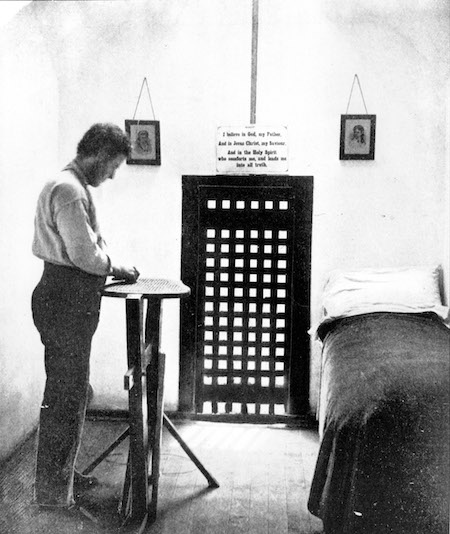 Join us as we reprise a special tour created for this year's One Book, One Philadelphia, a program of the Free Library of Philadelphia that promotes literacy, library use, and citywide conversation. Learn about the past and present role of labor in prisons in the United States and the connections between incarceration, industry, and the economy. Discussion will, in part, be guided by excerpts from the novel Sing, Unburied, Sing, which follows two generations of a family incarcerated at Parchman Farm Prison. Reading the book prior to the tour is encouraged, but not required.
Sing, Unburied, Sing by Jesmyn Ward was the 2019 One Book, One Philadelphia featured selection. Check out a copy of Sing, Unburied, Sing from your local library or purchase one here or from another independent bookstore.
This event is free for all members. Reserve free tickets online at www.EasternState.org/MemberSaturday or call 215-236-5111 x224. Space is limited.
Not a member? Join today! Questions? Email us at [email protected].
---
Photos:
Staff and prisoners install Cellblock 3 solarium windows. Photo: collection of Eastern State Penitentiary Historic Site, gift of the Scheerer Family.
Inmate Caning Chair, From Brief Sketch of the Origin and History of the State Penitentiary for the Eastern District of Pennsylvania at Philadelphia