Groups can virtually partake in Eastern State Penitentiary's award-winning guided tour program! These live, interactive, discussion-based experiences are perfect for all groups who want a remote, private, and unique experience. Facilitated by an engaging historic site educator, groups can choose from the following programs. Book your virtual group tour today!
For Virtual Classrooms/Learning Pods:
Defining Justice: Past and Present (Available for 4th grade to 12th grade) What does justice mean to you? Through social and emotional inquiry-based learning, elementary through high school students explore prisons past and present and the role they play in society in this interactive virtual workshop. One hour. Pricing below.

Virtual Excursions (Available for 4th grade to 12th grade) Delve deeper into the rich history and contemporary relevance of Eastern State by exploring a specific topic. These experiences include 30 minutes of guided instruction followed by a 15-minute hands-on activity using supplies you can easily find at home. Current topics include Eastern State Penitentiary 101, Music, and Food. Click here for more details. 45 minutes. Pricing below.

Our staff is highly-flexible and can respond to many learning objectives upon request.

For Any Virtual Group:
Eastern State Penitentiary and Prisons Today (Available for 4th grade to adults) Eastern State's history matters today more than ever. This in-depth virtual group tour explores the history of Eastern State and the experiences of men, women and children who lived and worked behind its walls. This program sets the stage for conversations about criminal justice reform today. One hour. Pricing below.

Organized Crime: Prohibition Era (Available for 4th grade to adults) Embark on an in-depth virtual exploration of vice, scandal and the struggles Eastern State faced in the early 20th century. This guided program includes a brief overview of Eastern State's founding principles, highlights organized crime figures who spent time at Eastern State, including "Scarface" Al Capone, and ends with group discussion. One hour. Pricing below.

Prison Architecture Then and Now (Available for 4th grade to adults) Eastern State Penitentiary's architectural influence can be seen in the 300 prisons around the world that copy its groundbreaking radial design. Learn about Eastern State's original system of solitary confinement and an ethical debate among architects today. Your group will consider essential questions like: Is it possible to design a humane prison? Should architects design spaces for punishment, solitary confinement or execution? What is the future of prison architecture? One hour. Pricing below.

Why not us? Why not now? Take action. (Available for 4th grade to adults) More than ever people want to learn more about justice, equity and mass incarceration. Join Eastern State educators and staff from PAR-Recycle Works for an interactive workshop that explores pathways to criminal justice reform past and present, builds connection, and inspires action. One hour. $200 for any group, up to 50 participants.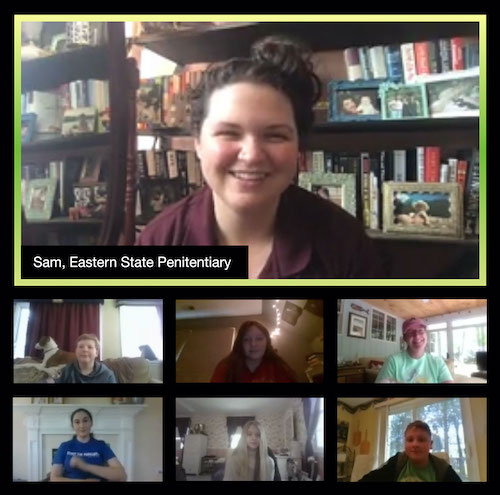 Details & Pricing:
Group size: up to 50 attendees
Availability: Monday - Friday from 9:00 am - 4:00 pm (Early mornings and evenings available for an additional fee.)
Age: 4th grade to adults
Online platform: Zoom
Fee (unless otherwise indicated):

$150, school and youth groups
$200, college and adult groups
+$75, additional sessions
Free for Philadelphia Public and Charter Schools*
* Additional schools may qualify for free virtual group tours.
Eastern State Penitentiary is committed to offering virtual programs that are financially accessible. Please ask for details when you make a reservation.
Other Opportunities:
College/University Partnerships - Are you a college professor interested in integrating Eastern State more deeply into your course in historic preservation, sociology, history, criminal justice, or another subject? We'll work with you to plan and present three 60-minute virtual sessions tailored to your classroom's specific needs. Email us for more info.

Workshop for Healthcare Professionals - "Healthcare, Incarceration and Reentry: Yesterday, Today and Tomorrow" was specially designed with healthcare professionals in mind. Learn more about healthcare at Eastern State and in prisons today. This workshop focuses on addressing stigma and implicit bias to provide more equitable care and compassion for currently and formerly incarcerated people. Email us for more info.

Book Your Virtual Group Tour
Please complete and submit this online form or contact Francine Schiffman (Senior Manager, Group Sales and Events) at [email protected].

FAQ