May 21, 2022, 11:00 am – 12:00 pm
Member Saturday: Meet the 2022 Artist
Members only. Registration required. In-Person.
Since 1995, Eastern State has commissioned more than 100 artists to create site-specific work for the penitentiary. These diverse and multifaceted installations allow visitors a unique opportunity to reflect on incarceration from a variety of perspectives.
Come to the penitentiary to explore the new installation for the 2022 season: DLP Mirror by Mark Menjivar. View the installation and discuss the power of site-specific art to inspire important conversations about our criminal justice system. Then, meet artist Mark Menjivar and Sean Kelley, Eastern State's Senior Vice President, Director of Interpretation, via an on-site video conference for a live Q&A.
Please Note: This event will take place in person at Eastern State. Space is limited.
This event is free for all members. Reserve free tickets online or call 215-236-5111 x224.
Not a Member? Join today!
Questions? Email us at [email protected]

---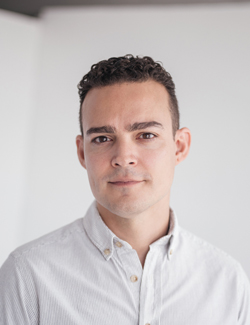 Mark Menjivar is a San Antonio based artist and Associate Professor in the School of Art and Design at Texas State University. His work explores diverse subjects through photography, archives, oral history and participatory project structures. He holds a BA in Social Work from Baylor University and an MFA in Social Practice from Portland State University.
Mark has engaged in projects at venues including the Rothko Chapel, the Bemis Center for Contemporary Art, The Houston Center for Photography, The San Antonio Museum of Art, The Puerto Rican Museum of Art and Culture, Blue Star Contemporary Art Museum and the Krannert Art Museum. Mark is the artist-in-residence with the Texas After Violence Project, a community-based archive and documentary project cultivating deeper understandings of the impacts of state-sanctioned violence on individuals, families, and communities. He was also named a 2019 Mid-America Arts Alliance Interchange Fellow.