November 17, 2018, 11:00 am – 12:00 pm
Member Saturday: Dead Man Walking
Members only.
Join us on the third Saturday of every month for a new members-only program.
Experience Eastern State as only members can, through exclusive tours on the third Saturday of every month at 11:00 am. These unique, inside looks will showcase new historical findings, take you behind the scenes, and much more. Discover our collections, uncover our site, illuminate history, and make unexpected connections.
November Member Saturday: Dead Man Walking
In 1981, Sister Helen Prejean embarked on what would become a lifelong mission. She began corresponding with Patrick Sonnier – a man incarcerated in Louisiana's Angola State Prison, who had been convicted of murder and sentenced to death. Sister Helen's relationship with Sonnier as well as the families of the victims and employees of the prison shaped her work forever. In her book Dead Man Walking, Sister Helen shares the story of her time as spiritual adviser to Sonnier and reflects on the complex human and societal impacts of the death penalty.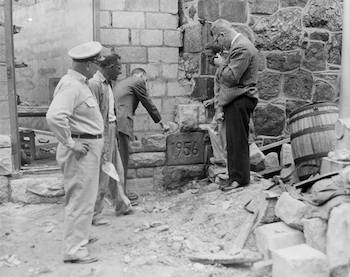 While executions never took place at Eastern State, the site has its own complex history with the death penalty. After its founding on principles of penitence through isolation in 1829, Eastern State's goals, practices, and facilities were inevitably shaped by the evolution of the American criminal justice system. In the 1950s, Cellblock 15, Eastern State's final cellblock, was constructed. From 1959 through 1961, this block held men who were sentenced to death, earning it the nickname "Death Row."
Join us for an exclusive tour that uses Dead Man Walking to explore the connections between Eastern State's history, mass incarceration, and the complexities of the death penalty in the United States. While this tour will address the themes and questions raised in Sister Helen Prejean's book, reading Dead Man Walking before the tour is recommended, but not required. Dead Man Walking is available for purchase in the museum store.
Praise for Dead Man Walking:
"Deeply moving . . . Sister Prejean is an excellent writer, direct and honest and unsentimental. . . . She almost palpably extends a hand to her readers." —The New York Times Book Review
"Painful and powerful . . . [Prejean's] practical moral courage is heroic." —The New Yorker
This event is free for all members. Reserve tickets online at www.EasternState.org/MemberSaturday or call 215-236-5111 x 224. Space is limited.
Not a member? Join today! Questions? Email us at [email protected].