-- After helping save the penitentiary from redevelopment in the 1980s and leading its transformation and massive success as a museum, Elk will retire in spring 2023 --
October 4, 2022
Today, Eastern State Penitentiary Historic Site announced that longtime President and CEO Sara Jane "Sally" Elk will retire from her position in the spring.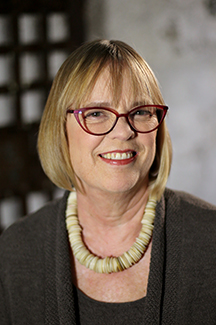 Over the course of her career, Sally has overseen more than $25 million in capital improvements at Eastern State Penitentiary, preserving this National Historic Landmark for current and future generations. She also launched the Preservation Trades Center at Eastern State Penitentiary, which creates pathways into the building trades for people historically excluded or underrepresented in those fields. Through specialty academies, the Preservation Trades Center (PTC) offers Philadelphians who are underrepresented in the building trades—returning citizens, women, and people of color—paid, on-the-job training opportunities, and connects them to long-term careers in the construction industry.
In 2016, under Sally's leadership, Eastern State was awarded the prestigious Trustee Emeritus Award for Excellence in the Stewardship of Historic Sites from the National Trust for Historic Preservation. Sally also received the 2020 James Biddle Award for Lifetime Achievement in Historic Preservation from the Preservation Alliance of Greater Philadelphia, a 2020 Philadelphia Arts and Business Council Leadership Award, and the Preservation Alliance of Greater Philadelphia Board of Directors Award for Exceptional Stewardship for Historic Properties in 2009.
The Eastern State Board of Directors has established a Search Committee, led by Board Chair John McInerney, which will oversee a national search for a new President and CEO. The Board, with the ESP Executive Team, will work closely with Ms. Elk on a seamless continuity of operations.
Sally Elk's Legacy
Sally first set foot inside Eastern State in 1985. Abandoned for more than 20 years, the building was in major disrepair. Water poured into the cellblocks. An urban forest grew in the halls and cells, and it was filled with feral cats. Vandals had smashed skylights and windows. Sally, whose background is in historic preservation, saw a powerful building with potential.
In the mid-1980s, the City of Philadelphia, the owner of the property, sought to sell the site for development. The leading plans included shopping malls and condominiums. All of the plans called for massive demolition within the walls of this National Historic Landmark, stripping the property of its history and significance. In her Preservation Planner role at the Philadelphia Historical Commission, Sally was part of a small citizen coalition that successfully convinced the City to save the prison and followed through with operational plans to justify its operation as a historic site. Hard hat tours began in 1994, and Sally joined the fledgling museum organization as its first paid Director in 2000. She has led the organization ever since.
Today, Eastern State attracts hundreds of thousands of guests from around the world each year to explore the site's fascinating past and contemplate some of the most critical issues facing our nation. Its innovative public history program draws connections to contemporary justice reform through an approach that values multiple perspectives, amplifies marginalized voices, and respects a broad range of visitors' interests and learning styles. It's likely that more people encounter the complex issues facing today's criminal justice system at Eastern State Penitentiary than at any other museum or historic site in America.
Sally currently serves on the Boards of Directors of the Parkway Council of Philadelphia and the Friends of the Rail Park, reflecting her deep commitment to Philadelphia's cultural institutions.
"I can think of no one else who has so singularly devoted her life to the cause through her tireless stewardship of one of America's most unique and challenging historical treasures," says John McInerney, Chair of the Board of Directors of Eastern State Penitentiary Historic Site. "Faced with the daunting challenge of caring for an enormous and complex site, Sally has assembled a team of loyal and dedicated professionals who share her excitement for the work of Eastern State. Under her leadership, they have achieved the seemingly impossible: transforming a 10-acre condemned building into one of the most impactful, innovative, and lovingly preserved historic sites in the country."
Sean Kelley, Eastern State's Senior Vice President and Director of Interpretation, says, "I have worked with Sally for more than twenty years. It's been a gift to work under a leader with such a depth of optimism, kindness, and trust in her coworkers. The extraordinary success we have achieved under her leadership speaks for itself. Sally is beloved by hundreds of current and former staff, Board members, contractors and partners who've been fortunate enough to experience her passion and dedication firsthand. We are forever grateful for her tireless leadership and her signature optimism!"
Sally Elk adds, "Working at Eastern State Penitentiary Historic Site has been one of the most rewarding experiences of my life. From the minute I stepped through Eastern State's massive front gate almost 35 years ago, I was stunned at the power of the building, in spite of its decades of neglect resulting in collapsed roofs, tons of debris, an urban forest, and a colony of cats. In my eyes, such an amazing building had a promising future. Preservation work began in the mid-1990s and hasn't stopped since. Over the years, I've had the pleasure of leading efforts to stabilize and restore some incredible spaces, including Eastern State's historic synagogue, hospital block, Catholic chaplain's office, and, most recently, its historic dining halls. And I am happy to report that by the end of 2022, 99% of the roofs will have been restored or protected from further deterioration. In addition to witnessing the site's physical transformation, I've also had the pleasure of watching our interpretation of these historic spaces evolve over time, focusing not only on Eastern State's history, but also its place within the long, complex history of criminal justice reform in America that continues today. I am honored to have worked alongside and learned from so many passionate, ambitious, smart, and dedicated people throughout the years. I will miss walking through the front gate each morning and working with the amazing staff, but I have full confidence that the organization is primed for the next era of growth and continued success."
About Eastern State Penitentiary Historic Site:
Eastern State Penitentiary Historic Site interprets the legacy of American criminal justice reform, from the nation's founding through to the present day, within the long-abandoned cellblocks of the nation's most historic prison.
Eastern State Penitentiary was once the most famous and expensive prison in the world, but stands today in ruin, a haunting world of crumbling cellblocks and empty guard towers. Known for its grand architecture and strict discipline, this was the world's first true "penitentiary," a prison designed to inspire penitence, or true regret, in the hearts of prisoners. Its vaulted, sky-lit cells held approximately 80,000 men and women during its 142 years of operation, including bank robber "Slick Willie" Sutton and "Scarface" Al Capone.
Eastern State Penitentiary Historic Site is open for tours year-round. Admission includes "The Voices of Eastern State" Audio Tour, narrated by actor Steve Buscemi; award-winning exhibits; and a critically acclaimed series of artist installations.
In recent years, Eastern State Penitentiary Historic Site has been awarded the prestigious Excellence in Exhibitions award by the American Alliance of Museums (AAM), the nation's highest award in exhibition development and design, for its exhibit Prisons Today: Questions in the Age of Mass Incarceration, as well as the Institutional Award for Special Achievement from the Pennsylvania Federation of Museums. The Returning Citizens Tour Guide Project, which hires people who were formerly incarcerated to lead tours of the historic site, has won the EdCom Award for Innovation in Museum Education by the American Alliance of Museums (AAM) and has been featured internationally by such networks as the BBC and others.
For more information, visit www.EasternState.org.
###