Eastern State Penitentiary Historic Site Appoints Dr. Kerry Sautner as President & Chief Executive Officer
May 24, 2023
The Board of Directors of Eastern State Penitentiary Historic Site (ESPHS) announced today that Dr. Kerry Sautner has been selected as the new President and Chief Executive Officer. Dr. Sautner brings a breadth of museum experience to ESPHS, whose mission to interpret the legacy of criminal justice reform is more relevant and critical than ever.
"Following an extensive national search, we are pleased to announce the selection of Kerry Sautner as President and CEO," said John McInerney, Chair of the Board of Directors of ESPHS, Chair of the Search Committee. "With impressive qualifications and a passion for museums and the power of place, Dr. Sautner is the leader we need to guide Eastern State through its next era of growth, engagement, and impact."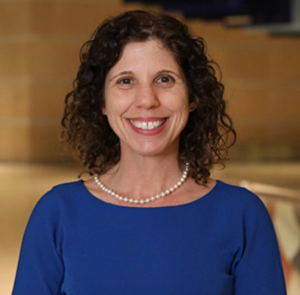 In her previous role as the Chief Learning Officer at the National Constitution Center, Dr. Sautner was promoted to drive national civic education efforts and oversaw all aspects of the Center's visitor experience and educational programming. Before joining the staff at the National Constitution Center in 2005, she worked on program development at the Franklin Institute, and has served as an adjunct professor at Drexel University and the University of Pennsylvania. Kerry Sautner obtained her doctorate in education leadership and management from Drexel University with a focus on creativity and innovation within educational facilities.
"I am honored to join Eastern State Penitentiary," said Kerry Sautner. "I have a deep passion for teaching the history and modern impact of the criminal justice system to illuminate freedom and voice within our Constitutional system. I look forward to collaborating with the team and our stakeholders to strengthen the institution's position as our nation's leading criminal justice museum, and to build upon the impressive work of creating a national platform for dialogue and change."
Today, Eastern State Penitentiary attracts hundreds of thousands of guests from around the world each year to explore the site's fascinating past and contemplate some of the most critical issues facing our nation. Its innovative public history program draws connections to contemporary justice reform through an approach that values multiple perspectives, amplifies marginalized voices, and respects a broad range of visitors' interests and learning styles. It's likely that more people encounter the complex issues facing today's criminal justice system at Eastern State Penitentiary than at any other museum or historic site in America. With approximately 2 million citizens incarcerated in prisons and jails across the United States—the highest rate of incarceration in the world, by far—Eastern State's mission is urgent.
"With her knowledge and experience in museums as a force for change, Kerry Sautner is a terrific choice to succeed Sally Elk," said Mayor Jim Kenney. "I know she will continue to build on the legacy of Eastern State Penitentiary to enrich the social, historical, and cultural fabric of Philadelphia."
Dr. Sautner will officially join Eastern State Penitentiary on July 10, 2023. She will become only the second director in the museum's 29-year history, following the retirement of longtime President & CEO Sara Jane "Sally" Elk, who will stay on to support Dr. Sautner's transition through late July.
About Eastern State Penitentiary Historic Site:
Eastern State Penitentiary Historic Site interprets the legacy of American criminal justice reform, from the nation's founding through to the present day, within the long-abandoned cellblocks of the nation's most historic prison.
Eastern State Penitentiary was once the most famous and expensive prison in the world, but stands today in ruin, a haunting world of crumbling cellblocks and empty guard towers. Known for its grand architecture and strict discipline, this was the world's first true "penitentiary," a prison designed to inspire penitence, or true regret, in the hearts of prisoners. Its vaulted, sky-lit cells held approximately 85,000 people during its 142 years of operation, including bank robber "Slick Willie" Sutton and "Scarface" Al Capone.
Eastern State Penitentiary Historic Site is open for tours year-round. Admission includes "The Voices of Eastern State" Audio Tour, narrated by actor Steve Buscemi; award-winning exhibits; and a critically acclaimed series of artist installations.
In recent years, Eastern State Penitentiary Historic Site has been awarded the prestigious Excellence in Exhibitions award by the American Alliance of Museums (AAM), the nation's highest award in exhibition development and design, for its exhibit Prisons Today: Questions in the Age of Mass Incarceration, as well as the Institutional Award for Special Achievement from the Pennsylvania Federation of Museums and the Trustee Emeritus Award for Stewardship from the National Trust for Historic Preservation. The LEAD Fellowship, formerly called The Returning Citizens Tour Guide Project, has won the EdCom Award for Innovation in Museum Education by the American Alliance of Museums.
For more information, visit www.EasternState.org and follow Eastern State Penitentiary on Facebook, Instagram, and Tik Tok.
###