Your support today will help us build a bright future for Eastern State Penitentiary. Click here to make a gift!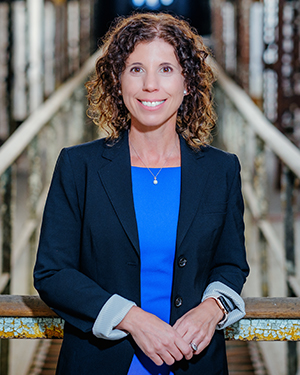 After just four months as Eastern State Penitentiary Historic Site's second-ever President and CEO, I am as blown away by the power of this place as I was on day one. I have witnessed three important things: Eastern State's purpose engages learners of all ages and not only drives a quest for understanding but ignites a desire in many to create change in our society; Eastern State has a fascinating and complicated past with a message for the whole world; and, Eastern State has a passionate and talented staff ready to launch this excellent organization onto a national stage. It is already an exhilarating and transformative learning experience for me; I am so grateful to be here.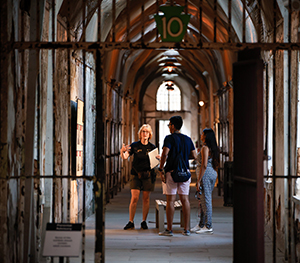 I felt drawn to Eastern State for the same reason many of you likely support it: because of the incredible potential of this unique and remarkable place to make change. My museum career began over 25 years ago. I have always been passionate about the power of historic sites to bring people together to learn from each other, engage with the past, and build an understanding of our collective future. I have a deep passion for teaching the criminal justice system's history, modern impact and foundation to illuminate the American struggle for fairness and justice.
Will you join me in building the future of Eastern State by making a gift today?
As a friend and supporter, your help is crucial to the future of our work. I ask you to join me today in realizing our potential. Eastern State is an important thread in Philadelphia's historical and cultural fabric, but it also speaks to national and international issues we grapple with today. When it first opened as an active prison in 1829, Eastern State changed how the entire world looked at criminal justice. Now, nearly 200 years later, no other museum in the United States has our specific focus and mission.
Looking ahead, there are three things I'm especially excited to move forward, with your help:
National Education Leadership – We must establish Eastern State as a national leader in criminal justice education, speaking to the evolution of the prison system and how – and why – it has changed over time. Personal stories from those most deeply affected by the criminal justice system can illuminate needed reforms and help chart a path towards greater human dignity.
Workforce Development – We will expand our historic site's impact as a pathway to meaningful, living-wage careers for returning citizens, both through the Preservation Trades Center, which provides training and connections to sustainable-wage paying union jobs in masonry and carpentry, and the Lived Experience Activating Dialogue (LEAD) Fellowship, which supports people coming home from prison and exposes them to career opportunities in the museum field.
Visitor Experience Reimagined – We will give Eastern State's visitors the best experience possible, by providing new and interactive ways to engage with the space, increasing opportunities for dialogue, incorporating artwork from a variety of disciplines, offering multiple ways to learn, and creating informative and entertaining events that engage people of all ages. A refresh will rejuvenate the historic site, making it more engaging, accessible, and impactful for visitors of all ages.
These opportunities are just the beginning. With your help, Eastern State can convene national dialogue fostering understanding of America's prison system, bringing leading organizations and experts together to discuss and build awareness of these critical issues.
Will you make your most generous year-end gift today in support of Eastern State Penitentiary's future?
Everything Eastern State Penitentiary has accomplished over the past three decades was only possible due to the generous support of friends like you. As I begin my tenure, I look forward to joining with you to realize the potential of this treasure and preserve it for future generations.
Thank you for all you have done and continue to do on behalf of Eastern State Penitentiary Historic Site. I wish you a warm holiday season.
Sincerely,
Kerry Sautner, Ed.D.
President and CEO