This cell is a recreation of a cell from Camp X-Ray, the now-abandoned holding cells in the United States Federal Detention Center at Guantanamo Bay, Cuba. The Department of Defense replaced the Camp X-Ray cells with newer holding cells, called Camp Delta, in 2002.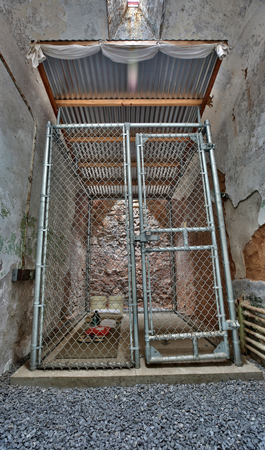 As of March 2006, the United States holds more than 235 "enemy combatants" at the newer Guantanamo Bay facility. Most are accused of associating with the Taliban or Al-Qaida.
By placing the Guantanamo Bay cell inside an Eastern State Penitentiary cell, Mr. Cromar illustrates "nearly polar-opposite means used to find a nearly equivalent end." Where the Eastern State cell is massive, opaque and stone, the small Guantanamo Bay cell is virtually transparent, reflecting a different attitude toward the prisoner and different expectations of the architecture.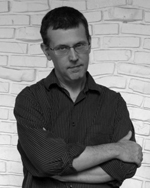 Meet the Artist
William Cromar is an artist and educator based in Philadelphia. He hybridizes a peculiar blend of architecture, music, animation and artmaking into a unique body of sculptural and installation art. William has exhibited nationwide, freelanced as an architectural modeling consultant, taught and lectured at the University of Pennsylvania, served as Visiting Assistant Professor in the School of Architecture at Philadelphia University, and was a visiting critic at Wesleyan University. He is currently Chair for the Penn State Abington College Art Program, where he also teaches new media art, encouraging emerging artists to create senseless acts of beauty.
Artist installations are made possible in part by revenue from Eastern State's Halloween fundraiser, Halloween Nights.
Eastern State also receives state arts funding support through a grant from the Pennsylvania Council on the Arts, a state agency funded by the Commonwealth of Pennsylvania and the National Endowment for the Arts, a federal agency.