On Friday, June 24, 2022, the Supreme Court of the United States overruled the 1973 decision of Roe v. Wade, which declared that the Constitution generally protected a pregnant person's liberty to have an abortion.
This landmark ruling is referenced on a sign at Eastern State Penitentiary under the headline "That was a crime?" In addition to laws criminalizing same-sex relationships, homelessness, and alcohol sale and consumption, laws criminalizing abortion were enforced during Eastern State's history as an active prison. Dozens of people served time at the penitentiary for seeking, assisting with, or providing abortions.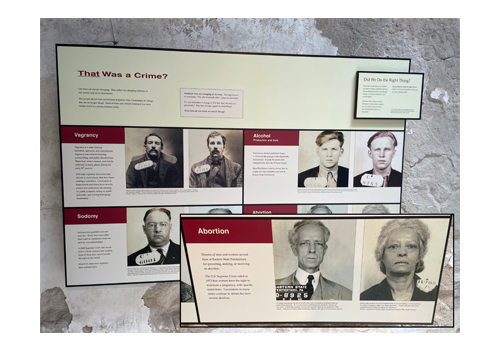 One such person was Milton Schwartz, a figure at the center of the story that inspired Rachel Livedalen's artist installation Doris Jean. Vinyl lettering and images installed on Eastern State's historic greenhouse explore the high-profile case of heiress Doris Jean Ostreicher, whose illegal abortion and subsequent death led to Schwartz's imprisonment at Eastern State in the 1950s.
In light of the Supreme Court's decision to overturn the Roe v. Wade ruling, Eastern State staff reached out to Rachel to see if she'd like to comment. Here's what Rachel said:
I write with deep sadness and frustration over the recent overturning of Roe v. Wade as I reflect on how we have moved backwards in history. Sites like Eastern State Penitentiary allow us to reflect on the past and the progress we've made or still need to achieve. When I created the installation Doris Jean at Eastern State Penitentiary in 2018, I never thought it would increase in relevance as it has done this past week. The artwork features adhesive vinyl images of newspaper articles detailing the illegal abortion and consequent death of Doris Jean Ostreicher in 1955 and the criminal trial that followed on the glass walls of a historic greenhouse located on the penitentiary grounds.

Doris Jean Ostreicher died when she was 22 years old in the apartment of Mr. and Mrs. Schwartz after a failed abortion attempt. Doris Jean Silver, a Philadelphia heiress, eloped with Earl Ostreicher, a Miami police officer, after a whirlwind romance two months prior. However, she soon returned to her parents' home in Philadelphia. Her father was allegedly in the process of filing divorce proceedings as Doris Jean learned of her pregnancy. Doris Jean's mother Gertrude testified that Doris wanted an abortion and begged her to help.

They first sought medical care from a doctor who refused due to the illegality of the procedure in 1955. After a series of phone calls, Doris Jean and her mother ended up at the Philadelphia apartment of a bartender and hairdresser, Milton and Rosalie Schwartz. Doris Jean ingested a compound to induce an abortion that proved fatal. The Schwartz's were soon arrested as was Doris's mother Gertrude as an accomplice. Both Milton and Rosalie Schwartz were found guilty, and Milton spent his imprisonment term at Eastern State Penitentiary. Gertrude Silver was not sentenced to any jail time.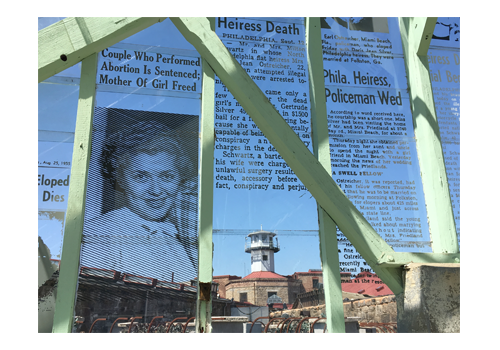 News of Doris Jean's death and the criminal abortion trial was covered across many states in part due to her social status and the dramatic details of her elopement and tragic death. As her story demonstrates, when abortion is outlawed, abortions still happen. Doris Jean lost her life without access to safe abortion care. This was 67 years ago.

It is important to note a key difference between the social climate Doris Jean encountered and that of today. If Doris Jean wanted to terminate a pregnancy in 2022, she would likely be able to. Being a wealthy heiress, she could travel to an abortion-friendly state and acquire the safe medical treatment she would need. Perhaps her mother Gertrude would even travel with her. Perhaps they would spend a long weekend in California or New York.

This will not be the case for all those seeking safe abortion care now, following the overruling of Roe v. Wade. Doris Jean would be in a privileged class. Now, women who can no longer access safe abortion care may be desperate and risk unsafe medical treatments, seek abortion pills without proper medical consultation, or forever change their future as they are forced to carry out their unwanted pregnancy. And their stories will not be on the front pages of our newspapers.

Eastern State Penitentiary opened in 1829, just as conversations about criminalizing abortion in the United States were on the rise. By 1880, all states had laws to restrict abortion — a few states with some limited exceptions. By the late 1960s, states across the nation had begun to change and, in some cases, eliminate these laws altogether. But it was only in 1973, with the Roe v. Wade ruling, that abortion was codified as a constitutional right across the nation.
As the ripple effect of the decision to overturn Roe v. Wade unfolds in the weeks, months, and years to come, we invite you to be a part of the conversation by exploring stories from Eastern State's past, including the story of Doris Jean, as we consider together what the future holds.