One of the things Liz Trumbull likes best about Eastern State is the way the building itself tells visitors about its past. She says that since Eastern State is a stabilized ruin, you can "look at a wall and read what happened. You can observe the changes over time." And as Manager of Historic Preservation and Architectural Conservation here, Liz plays an ongoing role in writing the next chapters of our site's architectural story.
One of the most recent additions to our narrative was cemented into place this summer during a masonry workshop. Eastern State staff developed the workshop with partners at Pullman-SST, PowerCorpsPHL, and the International Masonry Institute. Then, over the course of two weeks, eight very enthusiastic crew members helped remove hard Portland cement mortar from some of Cellblock 3's exterior walls and replaced it with historically accurate, structurally appropriate lime mortar.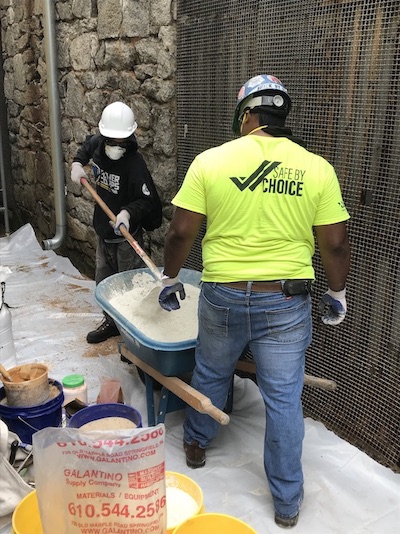 And while the crew members, all between the ages of 18 and 26, helped us maintain the building, they also learned a lot about the historic masonry field and had fun while doing it. The eight crew members spent most of their time on site replacing mortar. Their energy and enthusiasm for the work and their commitment to learning new skills was contagious. "This crew was awesome," Liz noted, "When they showed up every day, it was clear that they wanted to be here.
Crew members shared their excitement and new knowledge with Eastern State visitors by leading special Hands-On History tours about the project.
Each afternoon, one member of the crew served as spokesperson, explaining their masonry work and answering questions. "They were very proud of themselves, and we were proud of them too," said Liz.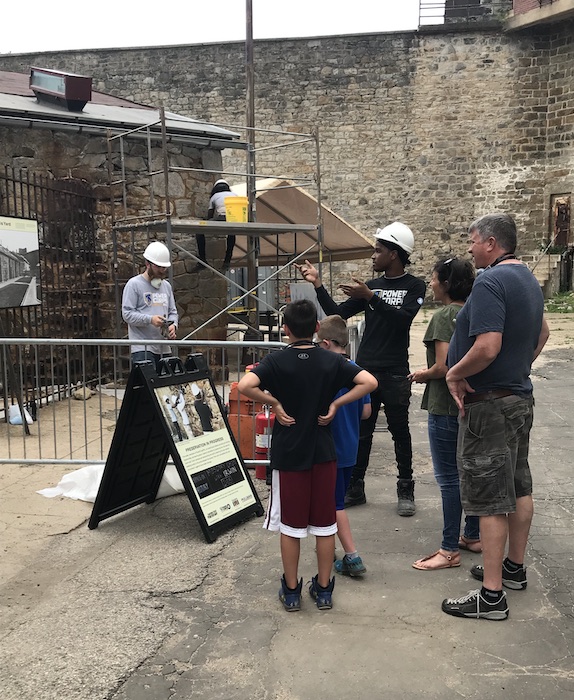 The participants were invited to take part in this work-learning opportunity through PowerCorpsPHL, an organization that provides opportunities for young people to create meaningful futures and develop workplace skills. In addition to helping facilitate the planning process, PowerCorpsPHL Program Manager Mike Herrmann served as crew leader, working alongside the participants on site. This project was not only a first for the crew of eight, but also a first for him.
"I had some basic masonry experience," Mike said, "but this was my first experience with historic masonry and working on a project of this scale." Many of the opportunities PowerCorpsPHL provides its participants are half or full day sessions. This two-week workshop was a much longer, more intensive experience, and it clearly made an impact. According to Mike, "They are still talking about it weeks later."
Each morning, like every morning at Pullman-SST, began with a stretching session. All crew members and employees gathered in a circle to stretch to talk about plans for the day. "It was a nice way for us all to start the day together," said Liz. Then, the crew got to work on site. Dan Organ, a senior estimator at Pullman-SST served as site foreman and instructor for the workshop. "I really enjoyed working on site with the crew," Dan noted, "Everyone had a great time."
While the crew enjoyed the typical day-to-day, one of their favorite experiences was a field trip to the BAC Local 1 training center, where they learned about other types of masonry work like bricklaying, repointing, tile work, and terrazzo. "My hope is that a few of the participants will end up following through with this as a career," said Dan.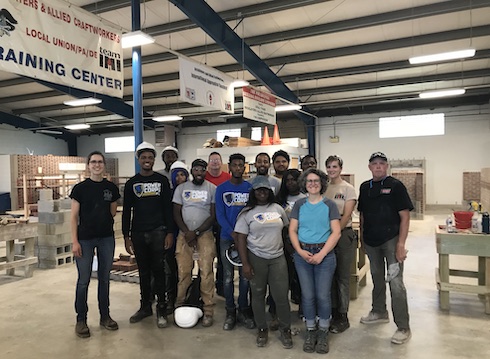 In addition to this field trip, Dan also organized a variety of learning and networking experiences for crew members. Professionals from wide-ranging disciplines within the construction industry visited over the course of the two weeks to talk about their career paths. Most of them started in jobs doing work very similar to the work the Eastern State crew was completing. "At least three-quarters of the people that came in to talk to participants started at a wheelbarrow," Dan notes, "There are a lot of different paths you can take in this field, and we wanted the crew to see that."
These visits and field trips clearly struck a chord. "At least three crew members are still pursuing applications for the union," says Mike Herrmann from PowerCorpsPHL. "The program is a great opportunity all around," said Liz, "The preservation trades need more apprentices. Through this workshop, we were able to share these career opportunities with people who may not have known it was an option." Whether the crew members ultimately move on to masonry work or not, they all played an important role in writing the next chapter of Eastern State's architectural story.
"The work they did helped restore Eastern State, so it can withstand the test of time," said Liz. And Eastern State can only continue to tell the story of the legacy of American criminal justice reform if the site is a safe place to tell it. "I'm proud to have been a part of maintaining Eastern State for generations to come," Mike noted, "My daughter is two now. When she's a little bit older, I can bring her to Eastern State and show her what me and the crew worked on here."