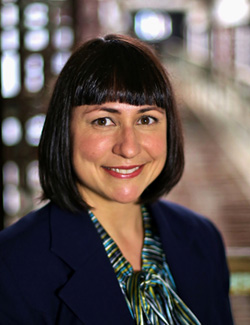 We asked Jennifer Tomczak, Director of Interactivity for Terror Behind the Walls, why she's passionate about Eastern State. Read about Jenny's first visit to the historic site and her relationship with it today.
When did you first learn about Eastern State?
The first time I visited, I crawled around on the stone floor of 'Center' and growled at an audition panel. I coveted a job moonlighting as a Zombie for Terror Behind the Walls. My crawl caught the eye of a hiring manager and for the past 14 years I have been helping to raise funds in the most enjoyable way possible.
What do you like about Eastern State's member program?
The member program gave me a way to share Philadelphia's historic gem with others. Bringing friends and family to the site is on a very short list of what is required when you come to visit with me. Stories of the site's history blended with the recently updated mission resonate with my out-of-town visitors.
Last year, you volunteered 40 professional hours to Eastern State through your employer's Gift of Time program. What motivated you to want to donate your time?
The program promotes employee volunteerism in a unique way. Not only does Eastern State benefit from my volunteer hours, Chubb also gives the organization a financial donation each year I participate. Chubb cares about what I care about. This is a perfect blend of my two very different lives.
---
Looking for more ways to deepen your experience at Eastern State? Become a member! Learn more here.