The artist applied removable vinyl lettering and images on the glass panes of Eastern State's greenhouse. The vinyl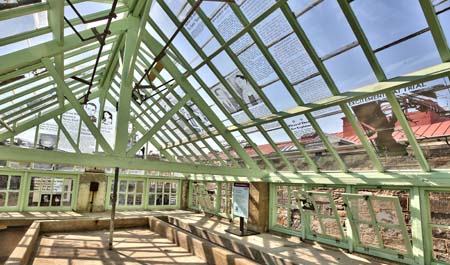 imagery is comprised of newspaper articles and photographs from the high-profile case of heiress Doris Jean Ostreicher, whose illegal abortion and subsequent death led to the imprisonment of Milton Schwartz at Eastern State in the 1950s.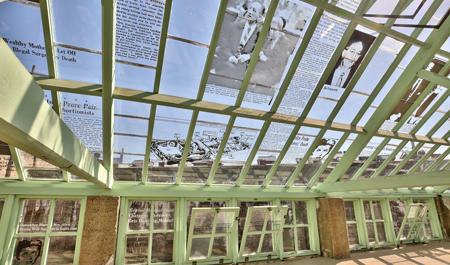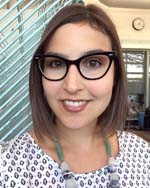 Meet the Artist
Rachel Livedalen's creative practice explores contemporary representations of gender through the lens of past histories and mythologies. She earned her BA in Studio Art and Art History from the University of Virginia where she was also awarded an Aunspaugh Fellowship. In 2014 Rachel graduated with an MFA in Printmaking from the University of Iowa. Rachel Livedalen is currently an Assistant Professor of Art at Texas Christian University in Fort Worth, Texas and heads the printmaking area. She recently received a 2017 - 2018 Kala Fellowship Award from the Kala Art Institute in Berkeley, CA. Rachel exhibits her interdisciplinary work widely and is represented by Erin Cluley Gallery in Dallas, TX. To learn more, visit www.rachellivedalen.com
Eastern State receives arts funding support through a grant from the Pennsylvania Council on the Arts, a state agency funded by the Commonwealth of Pennsylvania, and the National Endowment for the Arts, a federal agency. Eastern State's Halloween fundraiser, Halloween Nights, provides additional support.