The artist collective Provisional Island installed a handmade radio transmitter in one cell that transmits to portable radios in the cell directly opposite. The broadcast is comprised of fragments culled from radio broadcasts and historic radio shows created in prisons and internment camps, and highlights the role of radio in subverting and transcending prison walls.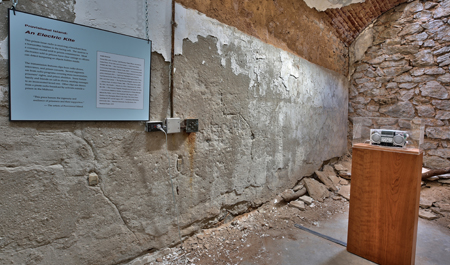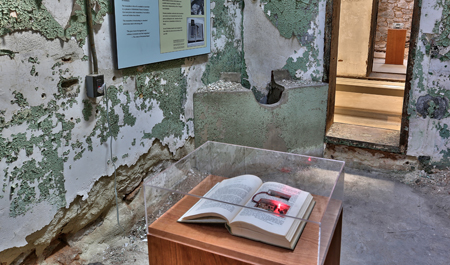 The prison-issue radio is receiving the broadcast is a common model sold in prison commissaries. Most electronics sold in prisons have clear casings so officers can detect tampering or objects hidden inside.
The transmission features clips from radio shows, interviews, and prison concerts. Several segments are from radio programs covering mass incarceration, prisoners' rights, and prison abolition. Some feature family and friends on call-in shows, sending messages to an incarcerated loved one. Other clips are drawn from a pirate radio broadcast by activists outside a prison in the Midwest.
"This piece honors the ingenuity and resilience of prisoners and their supporters."
— The artists of Provisional Island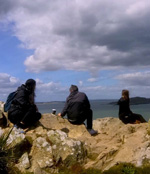 Meet the Artists
Eileen Shumate is a multidisciplinary artist exploring modes of community building and social justice within a deteriorating natural landscape. She recently was a fob holder resident at Second State Press. She also supports self-taught artists as a case manager at the art|works studios. She studied art and geography at the University of Iowa.
Heidi Ratanavanich is a visual artist and educator. Heidi's work uses a range of media—particularly sculpture, video and public/private gatherings—to give form to inquiries into the politics of place and space. Heidi is specifically interested in the intersection of food sovereignty, ecology and economy. They teach at Moore College of Art and Design. On other days Heidi works at Future and Sons building and renovating homes in Philadelphia.
Michael McCanne is a writer and visual artist. His writing and criticism has been published by The New Inquiry, Fanzine, The Brooklyn Rail, Art in America, and Jacobin. He holds a Master's degree from Goldsmiths University of London.
Eastern State receives arts funding support through a grant from the Pennsylvania Council on the Arts, a state agency funded by the Commonwealth of Pennsylvania, and the National Endowment for the Arts, a federal agency. Eastern State's Halloween fundraiser, Halloween Nights, provides additional support.