The piece uses the 1969 Stonewall Riots as a starting point to address issues facing gay and transgender prisoners.
The riots began after a police raid on the Stonewall Inn, a gay bar in New York City. Police arrested thirteen LGBTQ+ patrons. Many of the patrons resisted the police raid, and the following day thousands of people marched in the streets, speaking out about unfair treatment under the law. It was the start of the modern LGBTQ+ rights movement.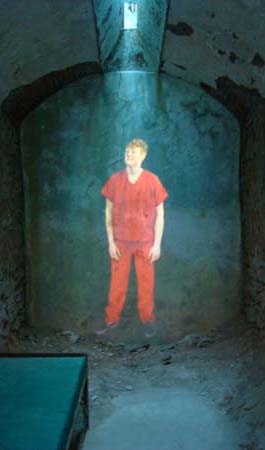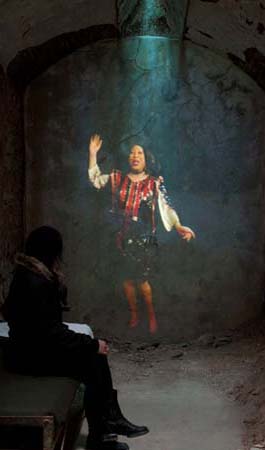 Today, transgender female prisoners (male to female) are incarcerated in male prisons, and transgender male prisoners (female to male) are incarcerated in female prisons. They are often placed in "protective" or "administrative" custody. The resulting confinement, while sometimes safer for the people incarcerated, is effectively a form of solitary confinement.
The artist has developed these monologues based on the experiences of real individuals.
Performers: Becca Blackwell, Michael Lynch
Cinematography: Ed David
Sound Design: Vincent Baker
Sound Mix: Dan Bora
Production Assistance: Nadja Marcin
"Spare Change for a Dying Queen" by Jimmy Camicia
Meet the Artist
Michelle Handelman's video installations, live performances and photographs have been exhibited in galleries, museums, theaters and public spaces worldwide, including ICA, London; Pompidou Centre, Paris; American Film Institute; MIT List Visual Arts Center; Lincoln Center, Performa Biennial, SF MOMA and Arthouse at the Jones Center. Recent projects include Dorian, a cinematic perfume based on Oscar Wilde's novel "The Picture of Dorian Gray" which opened at Participant, Inc NYC (2009) and This Delicate Monster, a three-screen installation based on the poems "Les Fleurs du Mal" by Charles Baudelaire. Handelman is a Guggenheim fellow and has received numerous awards including grants from the New York Foundation for the Arts, the Horizons Foundation and the Experimental Television Center. Her feature documentary BloodSisters, (1995) has just been re-released by the Tribeca Film Institute. Her fiction and critical writing appear in many publications including n. Paradoxa; A Feminist Journal; Inappropriate Behaviour (Serpents Tail, London 2001); Apocalypse Culture 2, (Feral House Press, LA 1992); and Herotica 3 edited by Susie Bright (Plume Books, SF 1994). Learn more about Michelle Handelman: www.michellehandelman.com
Photos: Laure Leber
Eastern State receives State arts funding support through a grant from the Pennsylvania Council on the Arts, a state agency funded by the Commonwealth of Pennsylvania and the National Endowment for the Arts, a federal agency. Arts programming is also made possible with funding from Eastern State's Halloween fundraiser, Halloween Nights.