A cell floor carpeted in Mylar blankets, a curtain of knotted shoelaces, and a blanket woven with multicolored shoelaces and Mylar strips reference the experiences of immigrants detained at the U.S. – Mexico border. When asylum seekers are taken into custody, their shoelaces are confiscated because they may be used as "deadly weapons." This also prevents detainees from running away.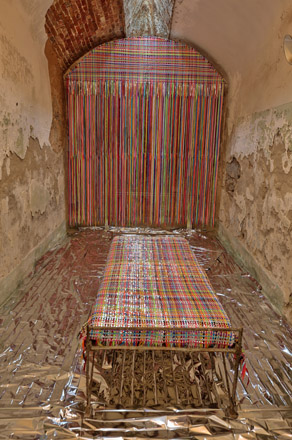 Inside crowded holding cells, migrants sleep on floor mats with only Mylar blankets for warmth. Upon release – in most cases back into Mexico – the shoelaces are often not returned. With little at their disposal, many asylum seekers fashion makeshift shoelaces from metallic strips of the Mylar blankets issued to them in detention.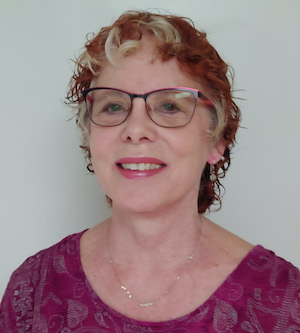 Meet the Artist
Linda Bond was born in San Francisco and grew up in Montclair, New Jersey. She works in a variety of media including gunpowder and graphite, gouache, blood, embroidery, monoprinting, cut and woven paper as well as three dimensional installations to visually explore issues of social concern.
Linda's work has been exhibited at MFA in Boston, the Brattleboro Museum, the Art Complex Museum, the Fitchburg Art Museum, Brandeis University, and the Corcoran Gallery among others. Linda taught at the Massachusetts College of Art and Design in Boston for twenty five years, working with undergraduates and mentoring graduate students. She currently lives in the Boston area and is a Resident Scholar at The Women's Studies Research Center at Brandeis University. Linda holds a BFA from Bradley University and an MFA from the University of Massachusetts, Amherst.
Eastern State receives arts funding support through a grant from the Pennsylvania Council on the Arts, a state agency funded by the Commonwealth of Pennsylvania, and the National Endowment for the Arts, a federal agency. Eastern State's Halloween fundraiser, Halloween Nights, provides additional support.