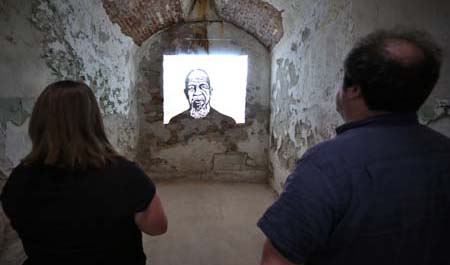 The artist projects a paper-cut silhouette of formerly incarcerated activist Hakim Ali onto a cell wall.
In the accompanying audio, Ali recounts his experience in solitary confinement. He describes the spiritual and psychological crisis, and later resilience, that is brought about.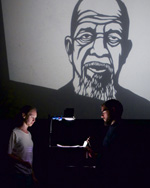 Meet the Artists
Erik Ruin is a Michigan-raised, Philadelphia-based printmaker, shadow puppeteer, paper-cut artist, etc., who has been lauded by The New York Times for his "spell-binding cut-paper animations." His work oscillates between the poles of apocalyptic anxieties and utopian yearnings, with an emphasis on empathy, transcendence and obsessive detail. He frequently works collaboratively with musicians, theater performers, other artists and activist campaigns. He is a founding member of the international Justseeds Artists' Cooperative, and co-author of the book Paths Toward Utopia: Graphic Explorations of Everyday Anarchism (with Cindy Milstein, PM Press, 2012).
Gelsey Bell is a New-York-City-based vocalist, composer, sound artist, and scholar. Her performance creations have been presented internationally. She has released multiple albums, including most recently This is Not a Land of Kings, Empty Words with Varispeed, and Ciphony with John King. She received a 2017 Foundation for Contemporary Arts award for music/sound and has been an artist-in-residence at Roulette. She has a PhD in Performance Studies from NYU and is currently completing a book about American experimental vocal music in the 1970s. She is the Critical Acts Co-editor for TDR/The Drama Review and the Reviews Editor for The Journal of Interdisciplinary Voice Studies.
Eastern State receives arts funding support through a grant from the Pennsylvania Council on the Arts, a state agency funded by the Commonwealth of Pennsylvania, and the National Endowment for the Arts, a federal agency. Eastern State's Halloween fundraiser provides additional support.