A reflective plane installed in a cell explores the contradictions inherent in Eastern State's architecture and historic practices. In the artist's words, these cells can be considered simultaneously "restrictive, cruel, and hauntingly beautiful."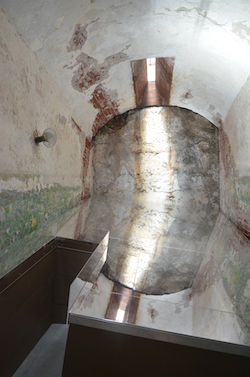 Stepping into the cell, visitors experience the reflective plane's impact on this complicated space as it bends the shape of the light entering from the skylight, creates an imaginary room by reflecting and distorting the cell's architecture, and alters the floor plane of the cell.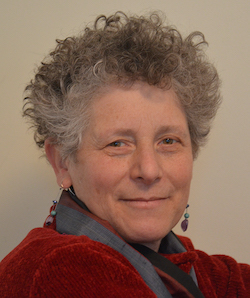 Meet the Artist
Recent work includes group shows at the Haber Space at Central Booking in New York City and the Johnson Art Museum in Ithaca, NY. Solo exhibitions and projects include Ann Reichlin: Counterpoint at the Munson-Williams-Proctor Arts Institute Museum of Art and a twenty-year long series of site-specific interventions on an abandoned house site on Sculpture Space grounds in Utica, NY. Her installation, Schism was exhibited as part of New Installations: Artists in Residence at the Mattress Factory in Pittsburgh, PA.
Ann is the recipient of numerous grants and fellowships, including two fellowships from the New York Foundation for Arts in the category of Architecture/Environmental Structures. Images of her work have been included in publications such as the Broad Street Review, Stone Canoe Number 4 and Number 6, NYFA Current, and Sculpture Magazine. Ann received a BFA from the Rhode Island School of Design and an MFA from the University of Colorado, Boulder. She was a Visiting Assistant Professor in Sculpture and Drawing at Hamilton College from 1997-2001 and an Artist-in-Residence at Brandeis University from 1990-1997. In 2016 and 2019, Ann taught Introduction to Sculpture as a Visiting Lecturer at Hobart and William Smith Colleges. Ann served as a 2019 NYFA fellowship panelist in the Category of Architecture/Environmental Structures. She lives and works in Ithaca, New York and served on the Ithaca City School District Board of Education from 2015 - 2021.
Eastern State receives arts funding support through a grant from the Pennsylvania Council on the Arts, a state agency funded by the Commonwealth of Pennsylvania, and the National Endowment for the Arts, a federal agency. Eastern State's Halloween fundraiser, Halloween Nights, provides additional support.