September 15, 2018, 11:00 am – 12:00 pm
Member Saturday: The Future Is Now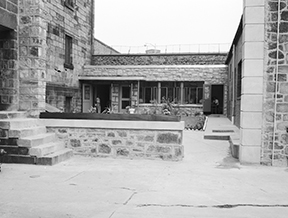 Members only.
Join us on the third Saturday of every month for a new members-only program!
Experience Eastern State as only members can, through exclusive tours on the third Saturday of each month at 11:00 am. These unique, inside looks will showcase new historical findings, take you behind the scenes, and much more. Discover our collections, uncover our site, illuminate history, and make unexpected connections.
September Member Saturday: The Future Is Now
Learn about the past, present and future of one unique part of Eastern State. Tour the officers' mess area—a rarely seen space not currently open to the public—which was once occupied by Eastern State guards and administrative staff, and learn about its future as the site of Eastern State's Visitor Center with President & CEO, Sally Elk.
Eastern State's future visitor center will enhance the visitor experience with a climate-controlled and accessible entry, modern restrooms, an exhibition space, and a multi-purpose area—all of which will support our efforts to address contemporary issues in criminal justice reform.
Please be aware the tour does have steps and will be inaccessible to guests who use wheelchairs. If you require alternate accommodations, please email [email protected].
This event is free for all members. Reserve tickets online at www.EasternState.org/MemberSaturday or call 215-236-5111 x 224. Space is limited.
Not a member? Join today!
Questions? Email us at [email protected].