Artist Alexander Rosenberg brings Eastern State's history of preservation into conversation with the curiously overlapping story of American climbing. In 1971, Eastern State Penitentiary closed; at the same time, the concept of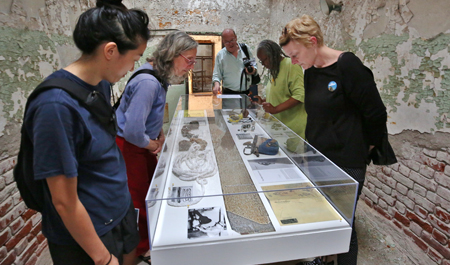 "clean climbing" was gaining traction in the worldwide climbing community. Drawing inspiration from these intersecting narratives, the artist rock-climbed about a dozen possible routes on the inside of Eastern State's 30-foot walls using "clean climbing" techniques. He then mapped and named each climb, producing a guidebook. The artist also fabricated a rack of traditional climbing gear from materials that would have been available within the penitentiary at its closing.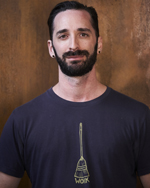 Meet the Artist
Alexander Rosenberg is a Philadelphia-based artist, educator and writer. He received a BFA in glass from Rhode Island School of Design and Master of Science in Visual Studies from MIT. His artistic practice is rooted in the study of glass as a material, in conjunction with broad interdisciplinary investigation crossing over into many other media and research areas.
Alexander pursues his practice with artist residencies, teaching, performances and exhibitions locally and internationally. His writing has been published in Glass Quarterly Magazine, The Glass Art Society Journal, and the Art Blog. He was a founding member of Hyperopia Projects(2010 - present), headed the glass program at University of the Arts (2010 - 2017), and was an artist member of Vox Populi gallery (2012 - 2015). Alexander currently teaches at Salem Community College.
Eastern State receives arts funding support through a grant from the Pennsylvania Council on the Arts, a state agency funded by the Commonwealth of Pennsylvania, and the National Endowment for the Arts, a federal agency. Eastern State's Halloween fundraiser, Halloween Nights, provides additional support.