Trimming the tree. Baking cookies. Wrapping presents. Christmas is a holiday rich in traditions, some universal and others passed down through families for generations. For people who are incarcerated during the holidays, Christmas shares common features with celebrations outside prison walls, but comes with noticeable differences and barriers, too. The way people incarcerated at Eastern State Penitentiary marked the holiday evolved over the years. And while traditions have changed, spending Christmas behind prison walls remains a reality for millions of Americans today.
At Eastern State, Christmas celebrations changed as prison policies shifted. In the 19th century, everyone at Eastern State lived in solitary confinement, and Christmas was celebrated in private. Still, incarcerated people were given a special meal on Christmas Day. Pork or beef, mashed potatoes, turnips and apples were served to people alone in their cells. Gifts were permitted as long as they weren't perishable. In 1896 Warden Michael Cassidy wrote, "Many Christmas cards and small articles were sent to the prisoners by their friends. All packages containing eatables were returned to the sender. The law prohibits such things."
Near the end of the 19th century, music became an important feature of the Christmas celebration. Carolers, including children, walked the cellblocks singing for hundreds of men and women. Christmas day musical performances hinted that the solitary era at Eastern State was coming to an end. Writing in his journal on Christmas day in 1890, the warden reflected, "In the afternoon a brass band came and made good music for the prisoners. This is something unusual and was fully appreciated by the prisoners."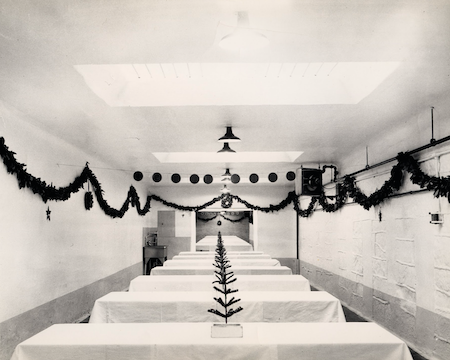 In the 20th century, a congregate system replaced solitary confinement, and a newly built chapel allowed prisoners a place to celebrate Christmas together. In 1934 Eastern State's chaplain wrote, "Christmas morning, the Chapel looks lovely, nearly four hundred of the boys have been released for this first mass at 5 A.M. No guards are present or are they needed. The lights have been dimmed; the Choir sings Holy Night."
Over time, the Christmas meal changed too. By 1926 the holiday fare included chicken, cranberry sauce, chicken gravy, sweet potatoes, mince pie, coffee, bread, candy and cigars. Ice cream and fruit cake were served for dessert. Instead of alone in each cell, the meal was enjoyed in two new mess halls, each seating 400 people.
In 1924 Eastern State broadcasted a Christmas musical program over Gimbel Brother's station WIP that was described as "plaintive melodies and abandoned jazz selections that cut through the ether." Hundreds of thousands of people across the nation tuned in to hear a choir of incarcerated singers accompanied by an orchestra. The program was hugely successful, generated enormous audiences and received heaps of fan mail.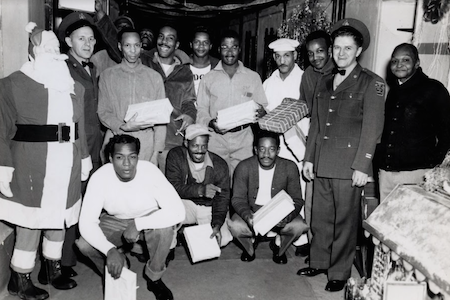 By the mid 20th century, each cellblock had at least one Christmas tree and in some cases, guards brought decorations from their own homes to adorn the prison. On at least two occasions in the 20th century, incarcerated people constructed life-size fabrications of Santa Claus. In 1916 the prison's newspaper The Umpire, wrote that "a life-like plaster cast of Santa Claus is a work of art that the institution can be proud of."
Many of the same Christmas traditions practiced at Eastern State continue in prisons throughout Pennsylvania today. Family members can visit their loved ones, a special meal is served, and people can worship together and even craft together.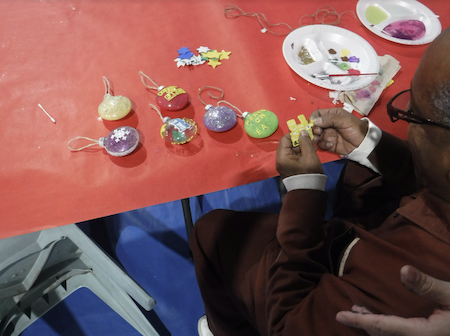 Of course, this is not without its challenges. Barriers like lockdowns – including a current lockdown to mitigate the spread of COVID-19 – often mean that celebrations are cancelled or put on hold. And we all know that distance from loved ones can be even more difficult and disheartening during the holidays. Still, no matter where or how we celebrate Christmas, the spirit of the season, and the traditions that come with it, connect us with one another, now and across many generations.

Damon McCool
Public Programming Specialist