April 15, 2023, 11:00 am – 12:00 pm
Member Saturday: Prisons in the Woods | The Environmental Impact of Mass Incarceration
Members only. Registration required. Hybrid.
Within the pristine beauty of the Adirondack Mountains lies a sprawling network of state and federal prisons. These prisons in the woods have had an undeniable effect on the environment, economy, and communities of upstate New York.
Join Dr. Jeff Hall, Assistant Professor of History at Queensborough Community College and author of A Prison in the Woods, for a discussion about the environmental impact of mass incarceration in upstate New York and how the prison construction boom of the 20th century threatened the natural environment and often distressed the residents of picturesque towns in New York's North Country.
This event is free for all members. To reserve free tickets online, visit this page. Log in using your Member ID and the Primary Member's last name. Choose the date of the event you wish to attend, add the desired number of free tickets to your order, and check out.
Not a Member? Join today!
Questions? Email us at [email protected] or call 215-236-5111 x224.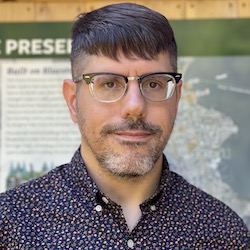 Clarence Jefferson (Jeff) Hall Jr. is an assistant professor in the Department of History at Queensborough Community College / CUNY and visiting instructor of Sustainability Studies at Pratt Institute in Brooklyn, New York. His research investigates the intersectional histories of environment, race, and incarceration in the U.S. His first book, A Prison in the Woods: Environment and Incarceration in New York's North Country, was published by the University of Massachusetts Press in 2020. He is currently working on a digital map documenting sites of incarcerated labor in New York's Adirondack Park for inclusion in a new permanent exhibition entitled "The African American Experience in the Adirondacks," slated to open at The Adirondack Experience: The Museum on Blue Mountain Lake, in 2025.