The Preservation Trades Center (PTC) at Eastern State Penitentiary is a hub for workforce development in the preservation trades that offers paid, on-the-job training opportunities.
Through specialty academies, the PTC connects Philadelphians who are underrepresented in the building trades – including returning citizens, women, and people of color – to long-term careers in the construction industry.
The PTC currently offers a four-week masonry restoration training academy with direct connections to full-time employment and union apprenticeships. We are actively seeking to expand our offerings to include additional preservation trades.

The Masonry Academy
Every year, ten crew members are selected for the Masonry Academy. Crew members are paid for one month of hands-on training at Eastern State Penitentiary, with the instruction and support of industry experts, while learning about the many ways to shape a career in the construction sector. We offer personalized support for every crew member along the way.
After graduating from the academy, crew members will have the opportunity to interview for a one-month fellowship position with a union contractor at jobsites in Philadelphia. Successful fellows will be considered for full-time employment with that contractor and a union apprenticeship.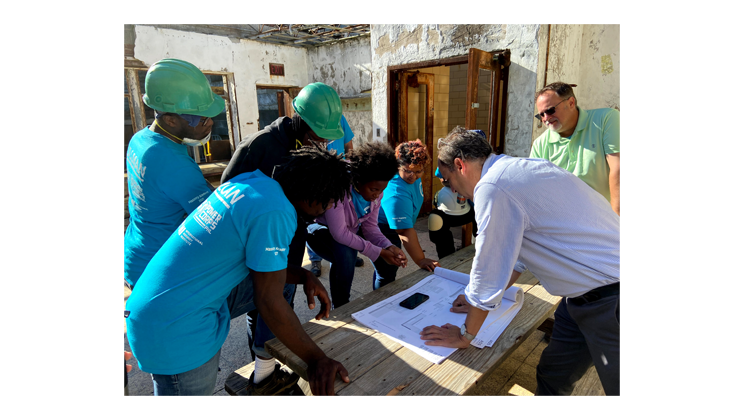 Our last Masonry Academy began on June 6, 2022 and ended on July 1, 2022! Check back soon for information on our next trade academy.
Below are some important milestones for applicants:
March 18 – Application Opens
April 18, 11:59pm – Application Closes
April 19, 6:00pm – Info Session #1 (Virtual) – All applicants are encouraged to attend one virtual info session via Zoom. Link will be sent to applicants.
April 20, 12:00pm – Info Session #2 (Virtual)
April 27, 8:00am – Interest Day (in person at Eastern State) – All applicants are required to attend this informative visit to Eastern State to be considered for an academy position. RSVP required. Applicants will receive instructions to RSVP via email.
April 27 to May 4 – Background Checks – Applicants must complete a background check. Applicants with a background / returning citizens are encouraged to apply.
May 5 and 6 – Interviews (in person at Eastern State) – Applicants will be contacted after the Interest Day to schedule an interview.
May 10 – Drug Tests – Applicants are required to pass a drug test – including cannabis – in order to be selected for the Academy. This is standard practice to ensure safety in the construction industry.
June 6 – Academy Begins
July 1 – Academy Ends
Applicants must live in Philadelphia, have a high school diploma or GED, and be vaccinated against COVID-19 by June 6. Masonry Academy participants will be paid $15/hour during the four-week program from June 6 through July 1.
Applications for our 2022 Masonry Academy are closed. Check back next year!
For application and eligibility questions, please email Ali Martinez at [email protected] or call/text 215-292-0282. For general questions about the PTC, please contact Liz Trumbull, Associate Director of Historic Preservation, Facilities, and Trade Programs at [email protected] or 215-236-5111 x239.

The work of the Preservation Trades Center would not be possible without the tremendous support of our partners Pullman-SST, PowerCorpsPHL, Rebuild, and IMI.