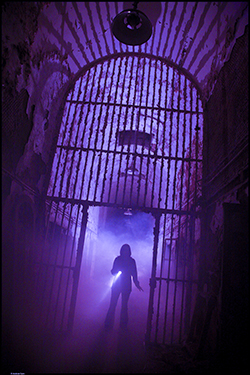 For more than 30 years, Halloween fundraisers have helped us at Eastern State Penitentiary Historic Site achieve some of our most critical work. Our Halloween events have brought high-quality, family entertainment to generations of Philadelphians and people all around the world. The income has allowed us to reach new audiences for the daytime penitentiary tours, build innovative museum exhibits, and put new roofs on historic cellblocks. Halloween is now more important than ever!
We've revised our sets, props, and characters over the years to better align with our mission, and completely reimagined the event in 2021—renaming it Halloween Nights—to create a festival environment that includes live performances, festive food, themed bars, storytelling, and roaming characters. This "Halloween Festival of Epic Proportions" contains five world-class haunted houses with more traditional Halloween theming.
Beginning in 2021, we also introduced our flagship history and museum experiences, reimagined for the nighttime audience, into the festival environment. Visitors can now take a break from the scares in The Fair Chance Beer Garden, operated in partnership with Triple Bottom Brewing Company. It includes Eastern State's award-winning Prisons Today exhibit that uses innovative filmmaking to reflect on the root causes of mass incarceration.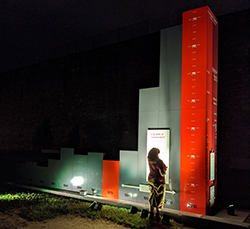 Halloween Nights visitors can also take a free History Highlights Audio Tour through Eastern State's center surveillance hub and historic Cellblock 4. It's narrated by actor Steve Buscemi and illustrates American patterns of incarceration with a 16-foot bar graph on the prison's former baseball diamond. A guide-led flashlight tour takes visitors into Eastern State's historic Cellblock 3—the Hospital—last used in 1971. All of these experiences explore models for how our nation could move toward a more equitable and effective criminal justice system.
Additionally, by partnering extensively with Fair Chance vendors, such as Triple Bottom Brewing Company, Down North Pizza, and The Monkey and the Elephant, and through our own Fair Chance hiring practices, Halloween Nights helps create living-wage jobs for people who have experienced incarceration.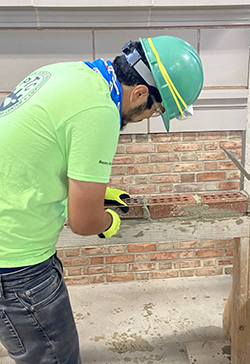 Finally, revenue from Halloween Nights continues to support our most critical projects, including preservation of this National Historic Landmark, innovative new exhibits, and programs such as our Preservation Trades Center, which creates pathways into the building trades for people historically excluded or underrepresented in those fields.
We are enormously proud of Halloween Nights. It remains one of the premier Halloween events in the nation, and now plants the seeds for deeper conversations for tens of thousands of people every fall. Happy Halloween!