Sixteen feet tall and weighing nearly two tons, The Big Graph is one of Eastern State's most powerful teaching tools. The sculpture's clean lines and stark angles grab visitors' attention, inviting them to contemplate the massive growth in American incarceration rates from 1970, when Eastern State closed, through 2010. Now, the story continues, and we need your help.


Your donation will support a once-in-a-decade effort: adding the next bar to The Big Graph. The U.S. prison population grew more than 600 percent from 1970 to 2010. While this number has dropped slightly in recent years, it's clear the impact of mass incarceration continues. The conversations happening at The Big Graph are more important than ever. And you can help us further this dialogue by making a gift today.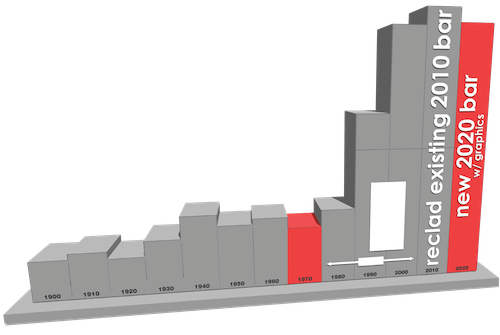 No one could have imagined what a watershed year 2020 would be for the complex issues Eastern State spotlights every day. Mass incarceration, policing issues, and racial disparities in criminal justice took center stage, all as the COVID-19 pandemic raged. There could be no more meaningful moment to prepare for The Big Graph's next chapter, and we want you to be a part of it.
Eastern State's Board of Directors have pledged to match gifts received through December 31. Support this project now and double your impact! And don't forget – thanks to the "Consolidated Appropriations Act" donors like you might be eligible for additional tax benefits this year. Learn more at www.EasternState.org/2021Donor.
I look forward to welcoming you to Eastern State when the project is complete. Thanks in advance for your support!