This ongoing project invites people in long-term solitary confinement in U.S. prisons to request a photograph of anything at all, real or imagined, and then finds volunteers to make that image.
This Eastern State Penitentiary installation features astonishing new requests from Pennsylvania and New Jersey, and range of photographs made for the project. Visitors are invited to fulfill requests by uploading their own images to www.PhotoRequestsFromSolitary.org.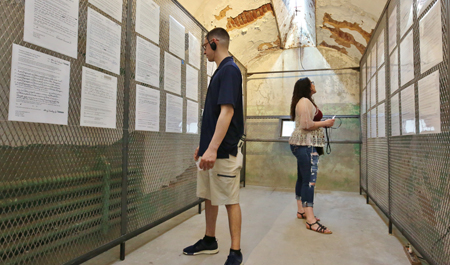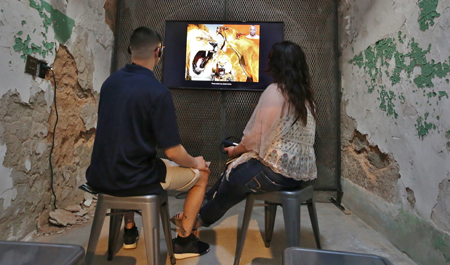 These photos will be sent to the people who requested them, and displayed on the website. Some will also be exhibited here at Eastern State.
The two-cell installation was designed and fabricated by Jennie Shanker. The website and exhibit graphics were designed by Platform.
About the Artists
Jean Casella is Co-Director and Editor of Solitary Watch, a national watchdog group that investigates, reports on, and disseminates information about the use of solitary confinement and other forms of extreme isolation in U.S. prisons and jails in order to spur public debate and catalyze change on one our country's most pressing domestic human rights issues. In 2012, Jean was named a Soros Justice Media Fellow by the Open Society Foundations for her work on solitary confinement. Her writing has appeared in The Nation, Mother Jones, The Guardian, and many other print and online publications, and she is co-editor of the 2016 anthology Hell Is a Very Small Place: Voices from Solitary Confinement as well as two earlier anthologies.
Laurie Jo Reynolds is a policy advocate and artist who challenges the demonization, warehousing, and social exclusion of people in the criminal legal system, often long-term efforts at the margins of political viability. Focusing on the retributive extremes of solitary confinement and public conviction registries, Reynolds collaborates with justice advocates, state officials, cultural workers, and people directly affected by violence and incarceration to encourage policies that truly prevent victimization and restore and rehabilitate, rather than damage, people in the justice system.
Jeanine Oleson is an interdisciplinary artist working with images, materiality and language that she forms into complex and humorous objects, images, videos and performances. She has exhibited and performed at venues including: Hammer Museum; Commonwealth & Council; and Atlanta Contemporary. Oleson has received a Rema Hort Mann Artist Community Engagement Grant, Creative Capital Artist Grant, and Puffin Foundation and Foundation for Contemporary Art emergency grant; and was in residence at Smack Mellon Studio Program, NY in 2009. She also published two books about performance projects in 2012, "What?" and "The Greater New York Smudge Cleanse." Oleson is an Assistant Professor of Photography in the Department of Art, Media, and Technology at Parsons School of Design. She lives in Brooklyn, NY.
Eastern State receives arts funding support through a grant from the Pennsylvania Council on the Arts, a state agency funded by the Commonwealth of Pennsylvania, and the National Endowment for the Arts, a federal agency. Eastern State's Halloween fundraiser, Halloween Nights, provides additional support.