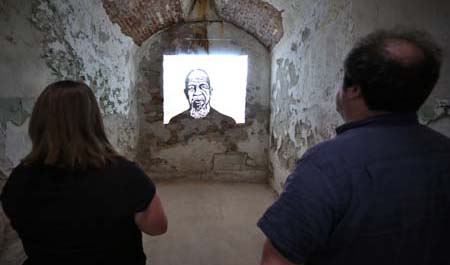 The artist project a paper-cut silhouette of formerly incarcerated activist Hakim Ali onto a cell wall.
In the accompanying audio, Ali recounts his experience in solitary confinement. He describes the spiritual and psychological crisis, and later resilience, that is brought about.
Eastern State receives arts funding support through a grant from the Pennsylvania Council on the Arts, a state agency funded by the Commonwealth of Pennsylvania, and the National Endowment for the Arts, a federal agency. Eastern State's Halloween fundraiser, Terror Behind the Walls, provides additional support.