Help us preserve Eastern State and promote our mission to interpret criminal justice reform in America. Here are three important projects that need your support now.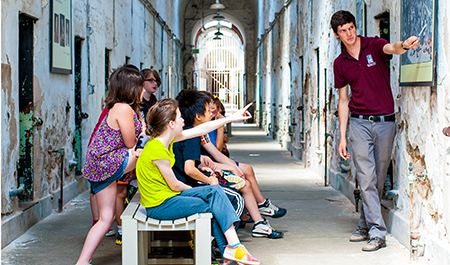 Education: Bus Scholarship
Thousands of students and teachers from Philadelphia and beyond tour Eastern each year. But not all schools can afford the transportation. This program covers the cost of a private bus or public transportation. Last year we supported visits for 1,382 students and 133 adults. This year we awarded 30 scholarships and exhausted the budget by September, unfortunately turning away many deserving schools. With your help we can award many more in 2018!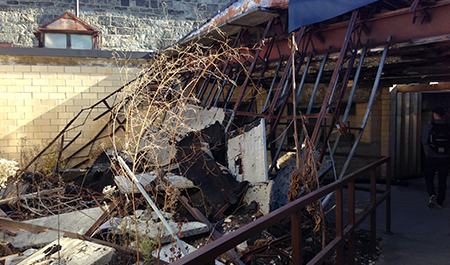 Preservation: Soup Alley – Gateway to Meal Time
After decades of serving individual meals to each prisoner isolated in his/her cell, Eastern State added its first dining halls in 1924. Prisoners quickly dubbed the narrow passage between Cellblocks 4 and 5 "Soup Alley." Today more than 20,000 visitors take our Soup Alley tour to learn about the extraordinary effort required to feed 1,400 prisoners three times every day. But debris from collapsed roofs obscures their view and blocks the path deeper into the site. Restoring the roofs over one of our most popular tour routes will allow visitors to follow the authentic path prisoners once took to reach the dining halls. Supporters like you already donated over $90,000 for this project. We also secured an $80,000 Keystone grant from the Commonwealth of Pennsylvania. We need your help to reach the project goal of $280,000.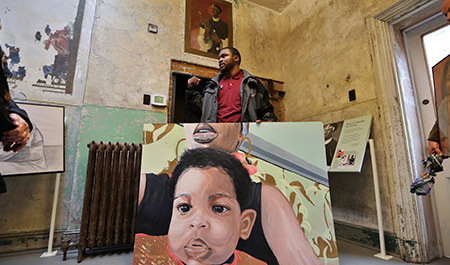 Programming: The Returning Citizens Tour Guide Project
More than 600,000 Americans leave prison every year. But most of us have never talked with someone who has been through prison. At Eastern State, we offer Returning Citizen tours that bring visitors and former prisoners together for an honest conversation about their experiences. Recently incarcerated men and women engage visitors from a surprising and emotional perspective: they compare life at Eastern State Penitentiary to their own experiences while incarcerated in the modern U.S. prison system. The project also offers them employment opportunities.
Matching Gifts
Many companies offer to match their employees' charitable contributions. By simply completing the form on the company's website, you can double the impact of your gift. Use the search bar below to see if your company is one of them.